Financing for Replacement Windows and Entry Doors


(908) 755-9100
Financing options are available!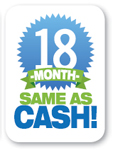 18-Month Same-As-Cash Loans* provided by EnerBank USA (1245 Brickyard Rd. Suite 600, Salt Lake City, UT 84106) on approved credit, for a limited time. Repayment terms vary from 30 to 138 months. Interest waived if repaid in 18 months. 16.89% fixed APR.
Please call or stop by 360's new showroom at 150 Terrill Road in Plainfield to discuss financing your project. Sam and his colleagues look forward to helping you!
*Subject to change after July 31, 2019